In a cottage by the sea, under the Wisteria Vines, live the most Enchanting dolls!
If you are looking for an Heirloom Doll, A Curious Bear,  an exquisite outfit for your own Treasured Doll, or a Very Special Gift for someone, come in and browse!  Have a Cup of Tea and enjoy our Lovely Dolls and Bears!!
Most would love to come and live at your house!
Find Little Ten Ping on our Ruby Red page!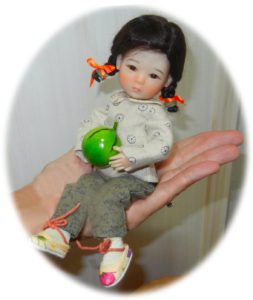 Lawton Travel doll in her Red silk!
Find Bethany in our Kish collection!